This easy chicken fried rice recipe makes takeout a breeze in your own kitchen. In this post, we'll teach you how to make chicken fried rice and share some alternate variations as well.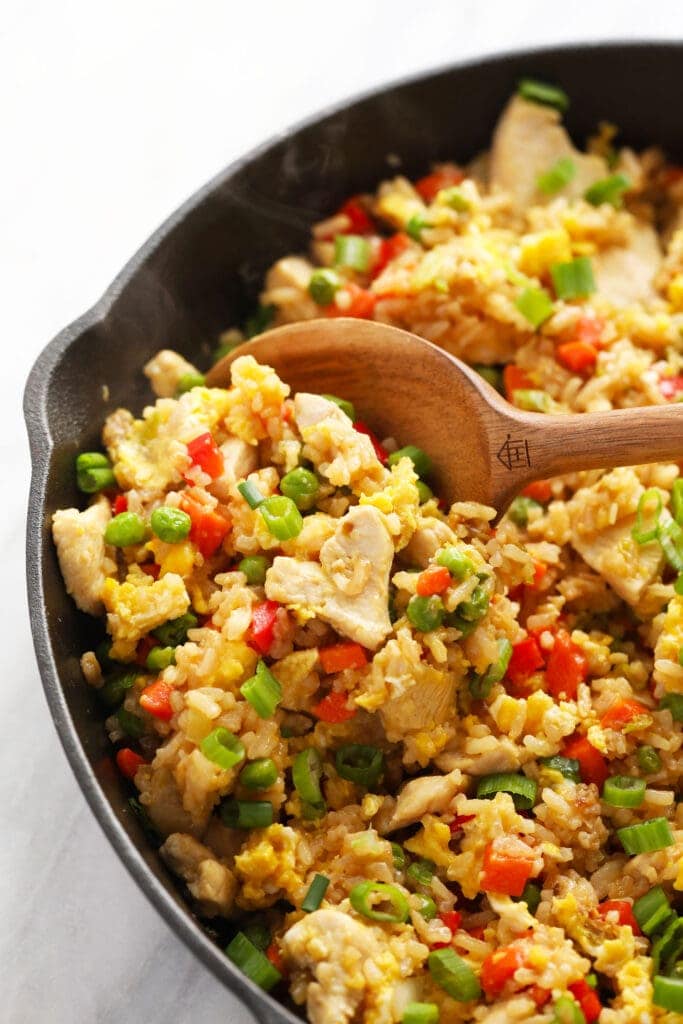 If you're anything like me, you crave takeout more nights than none. Chicken fried rice is such a fun and simple meal that you can make in your own kitchen.
I love this meal because it can be a stand alone recipe, or you can serve it up with other Asian-inspired dishes such as Instant Pot Cashew Chicken, Chicken and Broccoli Stir Fry, or Beef and Broccoli.
Chicken Fried Rice Made Easy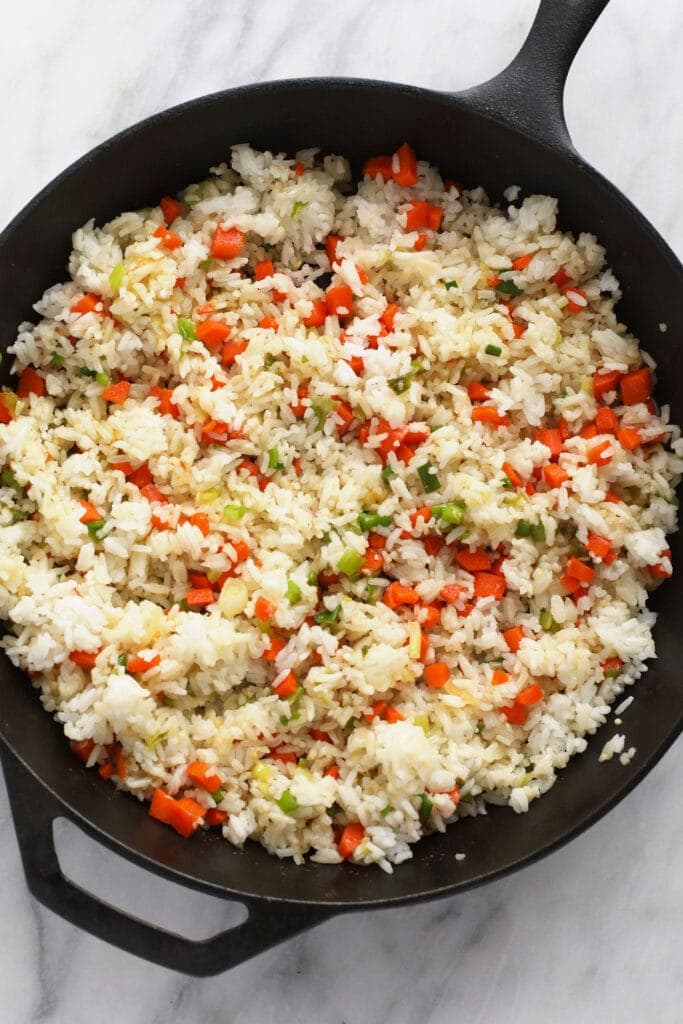 Chicken Fried Rice Ingredients
Chicken fried rice is commonly made with long-grain white rice, carrots, peas, chicken, scrambled eggs, and an easy brown sauce. Here's what you need for our easy chicken fried rice receipe:
olive oil
chicken breast
garlic powder
garlic powder
green onions 3 small carrots, minced (1 cup)
white rice
bell pepper
peas
eggs
soy sauce
maple syrup
rice vinegar
fish sauce
What kind of rice is best for fried rice?
We recommend using long-grain white rice. Our preference is jasmine, but basmati rice works too.
#1 Tip for Fried Rice
Our #1 tip for perfect chicken fried rice is to use chilled rice. We know this adds an additional step and a bit of planning, but cold rice really does create the best result.
If you use warm or hot rice, you're going to get extra moisture in the pan while frying. That's why, cold rice really is the best.
Planning to get Asian takeout? Buy a couple extra pints of white rice and pop it in the refrigerator. Cold white rice is the best kind of rice for homemade chicken fried rice.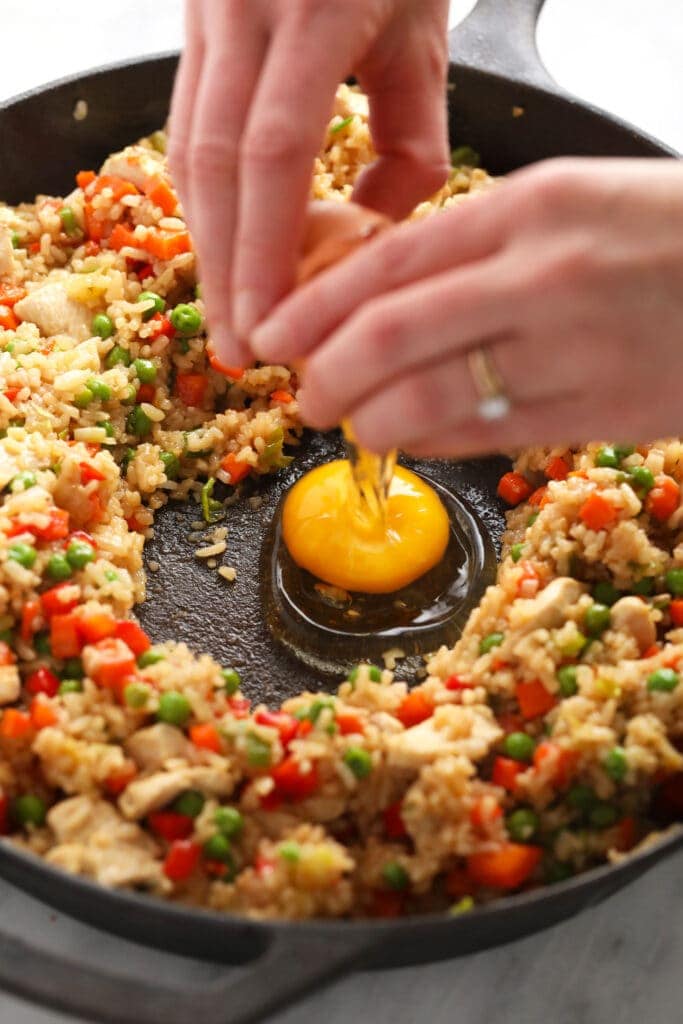 How to Make Chicken Fried Rice
Make Fried Rice Sauce: first, make your fried rice sauce. Simply combine all of the ingredients together and set aside.
Cook Chicken: cook chicken in olive oil and a little soy sauce. Make sure your chicken is cut into thin, small pieces.
Fry Rice and Veggies: remove chicken and add more olive oil. Then, fry the veggies and white rice for around 6-9 minutes or until the veggies are cooked. Add fried rice sauce and mix again.
Scrambled Eggs: Finally, create a well in the center of your frying pan. Crack in 3 large eggs and use a fork to scramble. Add a little soy sauce and cook over the heat until fully cooked. Make sure not to break the eggs up too much as you want to keep them in larger chunks.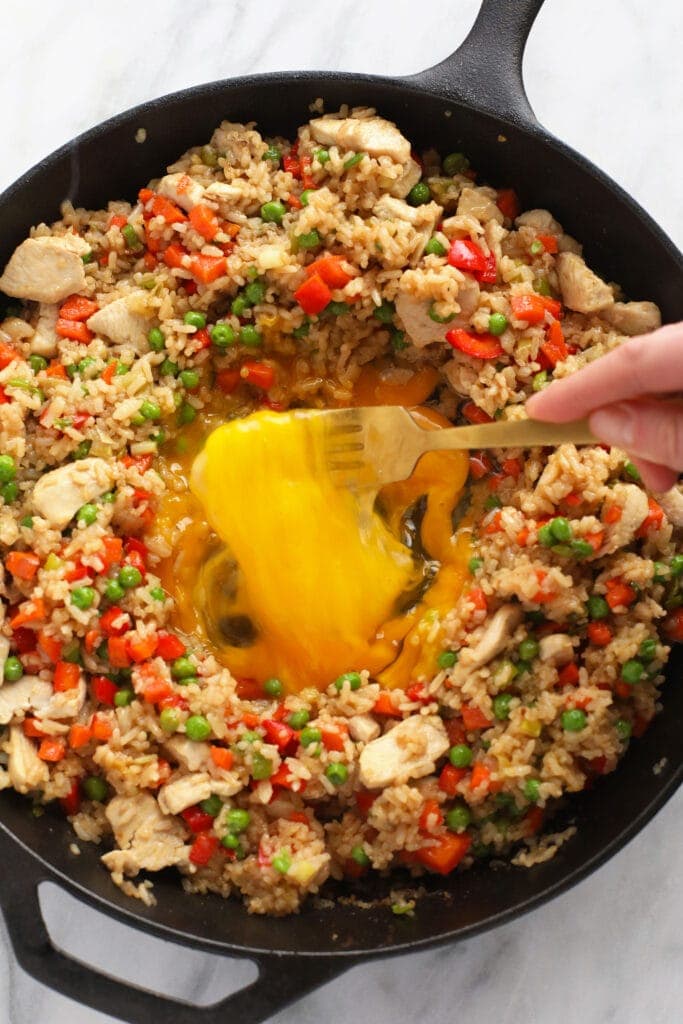 Homemade fried rice doesn't have to stop here. Check out some of our other fried rice variations:
Chicken Fried Rice Variations
Add pineapple: Right before serving, add diced pineapple and mix.
Use brown rice: More of a brown rice kind of person? Feel free to use either long-grain or short-grain brown rice 1:1.
Use a different protein: Try using a different such as shrimp or beef. Or, you can even use ground chicken instead of chunked.
Let chicken fried rice cool completely. Then, transfer it into an airtight container and seal. Store in the fridge for up to 3-5 days.
Chicken fried rice can easily be frozen. If you are planning to freeze cooked chicken fried rice, we recommend not scrambling the eggs in and doing this part once you've thawed and reheated it.
Let chicken fried rice cool completely. Then, transfer into a gallon-size bag and remove as much air as possible. Seal and freeze for up to 3 months.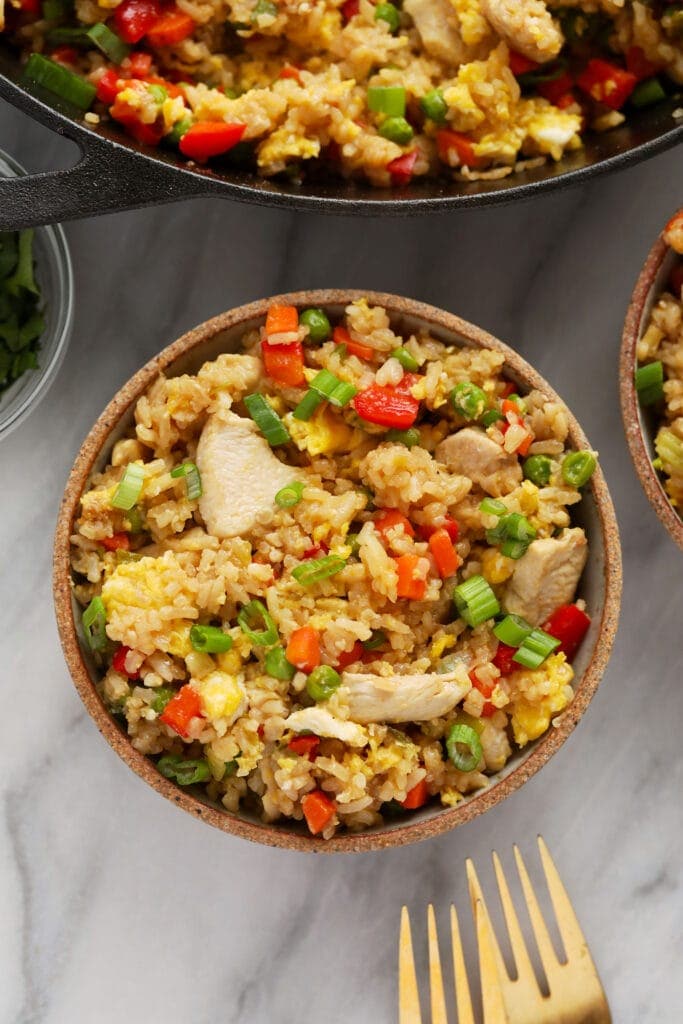 Fried Rice
3 tablespoons olive oil, divided
1 lb. boneless, skinless chicken breast, thinly sliced into small chunks
2 teaspoons garlic powder
2 teaspoons soy sauce, separated
1 teaspoon minced garlic
8 green onions, minced
3 small carrots, minced (1 cup)
4 cups cooked chilled white rice (or brown)*
1 large red pepper, minced
1 cup frozen peas
3 large eggs
Sauce
1/4 cup soy sauce
1 teaspoon maple syrup
2 teaspoons rice vinegar
1/4 teaspoon fish sauce
1 teaspoon minced garlic
First, begin by preparing fried rice sauce. Mix all ingredients together and set aside.
Next, cook chicken. Add 2 tablespoons olive oil to a large frying pan and heat over medium/high heat. When the olive oil is fragrant add chicken breast and season with garlic powder. Then, add 1 teaspoon soy sauce. Saute over medium/high heat for around 5 minutes until the chicken is fully cooked. Then, remove chicken from the pan, keeping the excess oil and liquid in the pan.
Next, add another tablespoon of olive oil to the pan, and then add only the white parts of the green onion and minced carrot. Saute over medium/high heat for 2-3 minutes. Then, add white rice and saute for another 2-3 minutes. Add red pepper and frozen peas and saute for another 2-3 minutes. Finally, add fried rice sauce and cooked chicken and continue to cook for 3-4 minutes.
Turn heat down to medium and then create a large well in the center of your pan. Crack in 3 large eggs and scramble. Then, add 1 teaspoon soy sauce to the scrambled eggs and mix. Let eggs cook in the pan, folding them onto themselves while maintaining larger chunks of scrambled eggs. Once the eggs are fully cooked, mix everything together co combine.
Serve chicken fried rice with the green parts of the green onion.
Rice: this recipe works best with chilled rice. We suggest making your rice ahead of time and chilling in the fridge overnight. This helps remove moisture from the rice before frying. 
Serving Size: 1/4
Calories: 529
Sugar: 5
Fat: 15
Carbohydrates: 60
Fiber: 5
Protein: 39
Author: Category: Main MealMethod: StovetopCuisine: Chinese
Keywords: chicken fried rice, chicken fried rice recipe