Have you ever wondered how to roast cashews? These Maple Sesame Roasted Cashews are so simple to make and double as a snack or salad topper!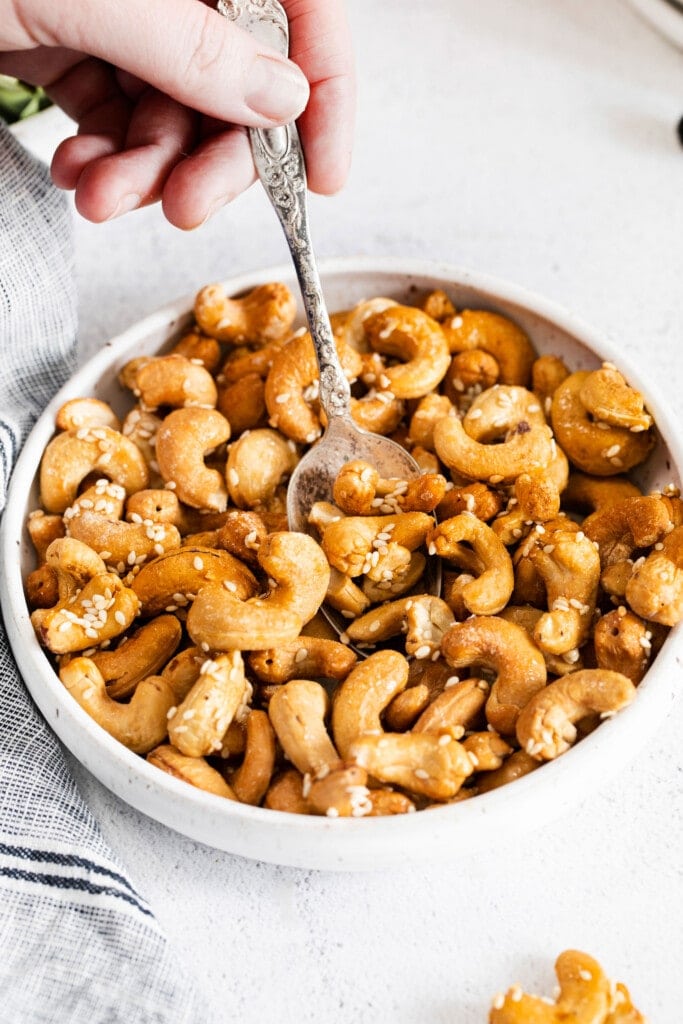 A handful of roasted cashews or pecans is seriously the best snack ever. Plus, roasted nuts double as a salad topper for some sweet.
Roasted Cashews = Favorite Snack!
One of my all-time favorite snacks from Trader Joe's is their sesame cashews. I eat them by the two, three, or four handfulls they are so good!
These Maple Sesame Roasted Cashews are an easy at-home version that you can make in your own kitchen but made with no added sugar or additives. Here's why you need to make these:
4-Ingredients: you only need 4 basic ingredients to get started.
Ready in 30 Minutes: roasted cashews ready in no time!
Vegan & Gluten-Free: these nuts are both naturally gluten-free and vegan.
Versatile: whether you're eating these as a snack, gifting them to a friend or family, or topping them on a salad, this roasted cashews recipe is so versatile.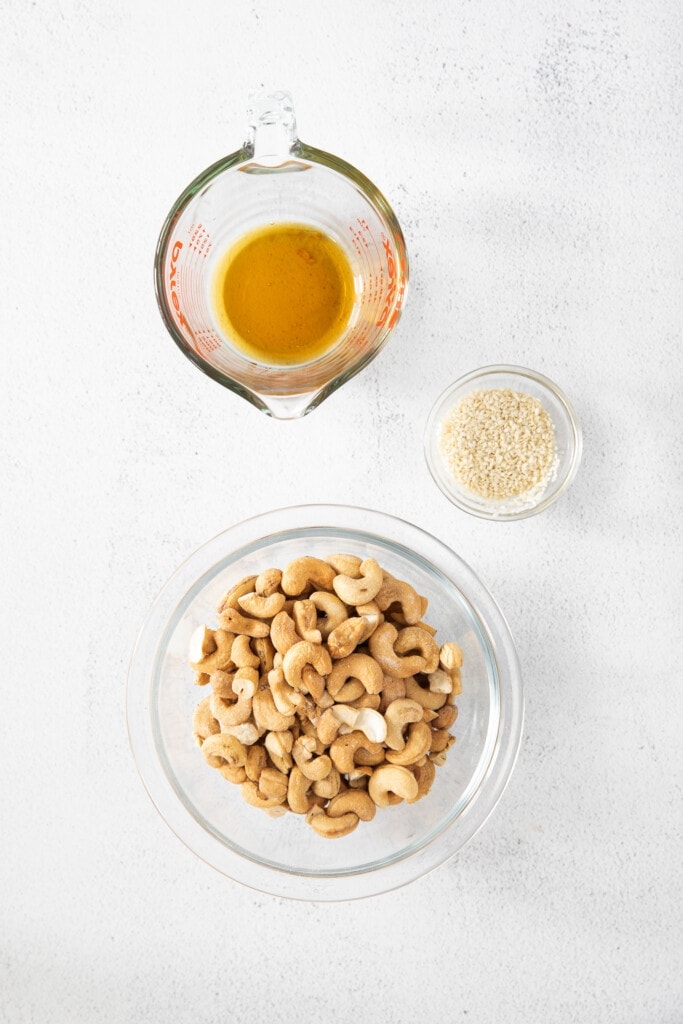 What You Need
This roasted cashews recipe calls for 4 very simple ingredients. Check it out:
Whole, raw cashews: raw cashew pieces will also work, but whole cashews are what you should try and find!
Maple syrup: maple syrup is used to sweetened the nuts. It also helps the sesame seeds stick to the cashews.
Sesame seeds: feel free to use either white or black sesame seeds. You can see what the black sesame seeds look like on in our Thai Salmon Salad.
Salt: don't skip the salt! It brings out the wonderful flavors of the maple syrup, cashews, and sesame seeds.
Do I have to use raw Cashews?
The answer here is yes! If you used already roasted cashews, what would the point of this recipe be 😀
Can I use a different nut?
You are more than welcome to try this with peanuts, walnuts, or pecans. But, the bake time might be slightly different.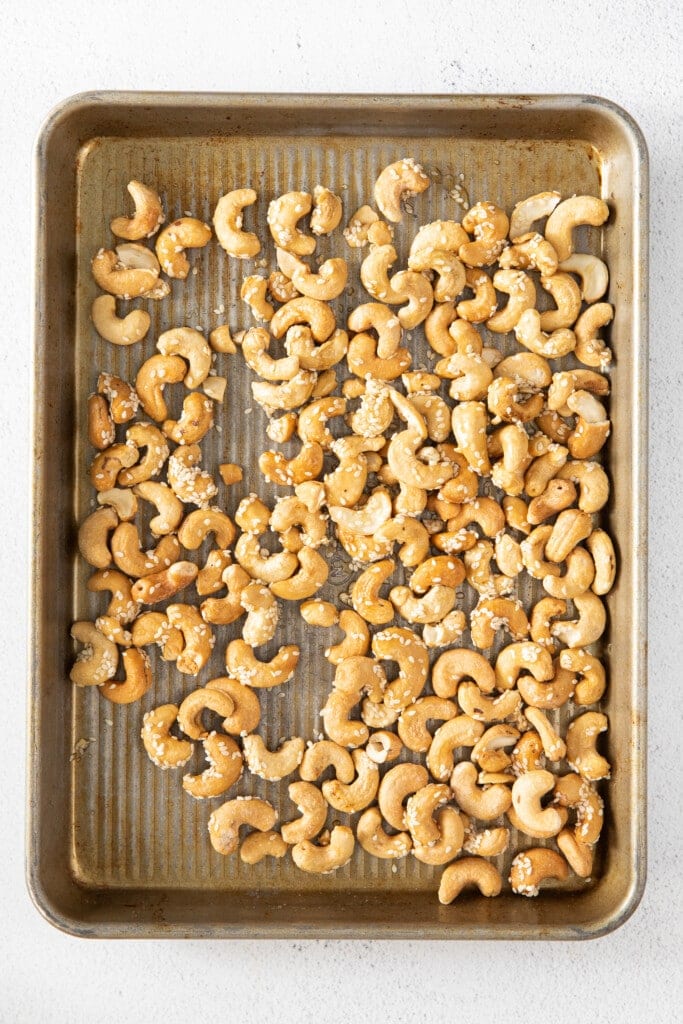 How to Roast Cashews
Whether you're roasting plain cashews or roasting your cashews so they are sweet and sticky like this recipe, it's so easy! Here's how to do it in just a few steps:
Line a Baking Sheet: Prepare a baking sheet with parchment paper and preheat the oven to 375ºF.
Drizzle Maple: Spread out raw cashews on the baking sheet and then drizzle on the maple syrup. Toss the cashews making sure everything is evenly coated.
Sprinkle on Sesame Seeds: Sprinkle on a generous amount of sesame seeds (and a pinch of salt!) and gently toss cashews one more time.
Roast & Toss: Roast cashews at 375ºF for around 10 minutes tossing every 3 minutes so that the cashews don't burn and cook evenly. After 10 minutes they should be nice and golden brown.
Let Rest: Let the cashews rest on the baking sheet for at least 10 minutes. During this time they will become nice and crunchy, so don't worry if they seem a little spongy when they first come out.
We found that tossing the raw cashews with the maple syrup and then the sesame seeds helped the sesame seeds stick better than tossing all at once.
Feel free to doctor up your cashews with even more sesame seeds!
Recipe Variations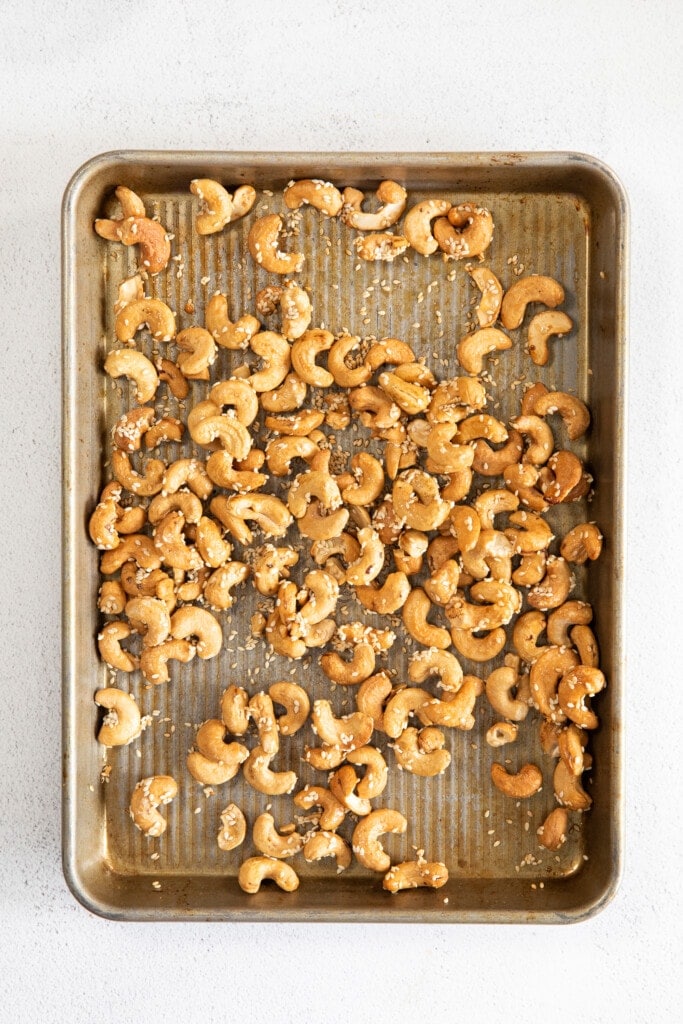 Serving Suggestions
Let roasted cashews cool completely and then transfer them into an airtight container. Store in a cool, dark place for up to 1 week.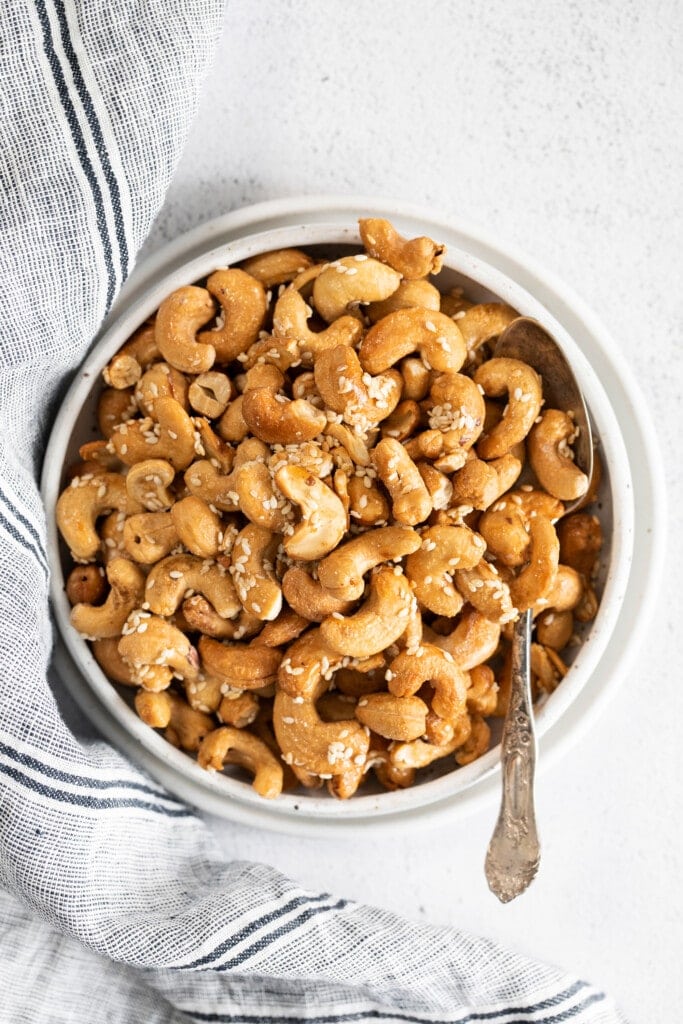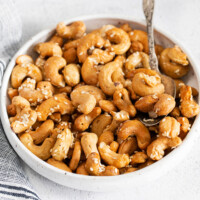 Maple Sesame Roasted Cashews Recipe
These Maple Sesame Roasted Cashews are cooked in the oven to crunchy perfection and are the most delicious sweet snack.
Prep: 5 minutesCook: 10 minutesTotal: 15 minutes
Fat 13
Carbs 15
Protein 5
Yield 8 1x
First, preheat the oven to 375ºF and spray a baking sheet with nonstick cooking spray or line with parchment paper. Set aside.
Next, place raw cashews on the baking sheet and drizzle on maple syrup.
Toss cashews in the maple syrup and make sure everything is fully coated. Then sprinkle on sesame seeds and gently toss again. Season with salt.
Roast at 375ºF for around 10 minutes, stopping to toss at 3, 6, and 9 minutes.
Once your cashews are golden brown, remove them from the oven and let them sit for at least 10 minutes. During this time they will become crunchy.
Let cashews cool completely and then store in an airtight container for up to 1 week.
As your cashews rest after baking they will harden. If they feel a little spongy, don't worry!
Storage: let the nuts cool completely and then store them in an airtight container for up to 1 week.
This recipe was slightly updated on March 23, 2021. To find the original recipe click HERE.
Serving Size: 1/4 cup
Calories: 198
Sugar: 8
Fat: 13
Carbohydrates: 15
Fiber: 1
Protein: 5
Author: Category: SideMethod: OvenCuisine: AmericanDiet: Vegan
Keywords: roasted cashews