If you're a Starbuck's lover, then you are going to swoon over this at-home vanilla sweet cream cold foam recipe.
It's made with just a few simple ingredients and you can store this copycat vanilla sweet Cream cold foam in your fridge for up to 5 days!
Starbucks fans, we are about to make your dreams come true with his vanilla sweet cream cold foam recipe!
What is Starbucks Vanilla Sweet Cream Cold Foam?
Vanilla sweet cream cold foam is Starbuck's signature summer creamer that's commonly served on top of cold brew.
Vanilla sweet cream cold foam is sweet, creamy, and frothed (AKA foamed) perfectly to float on the top of your cold brew. It's essentially an upgraded sweetened vanilla creamer and we're here for it.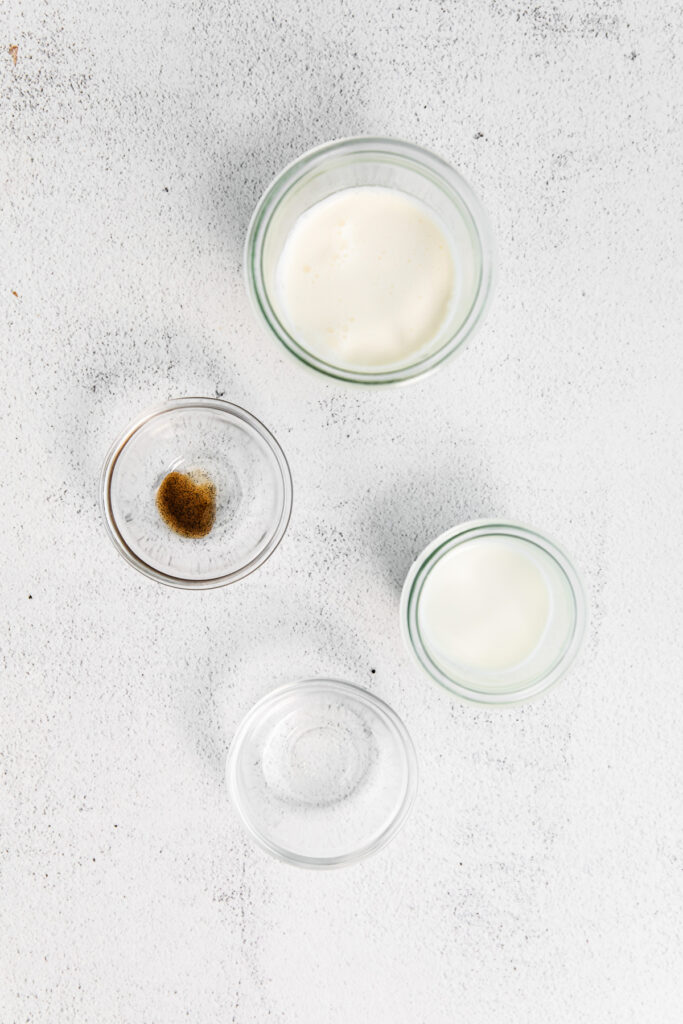 Ingredients You Need
Why do I need to use cream and milk?
The reason why you need to dilute the cream with a little milk is so that it doesn't clump and can easily mix with your coffee. Often times when you add straight cream into coffee, it clumps, which is why most people use half and half (cream + milk).
Can I use iced coffee instead?
You can absolutely use iced coffee instead of cold brew coffee.
Not even sure what the difference is? Cold brew coffee is brewed through soaking instead of through heat. Check out our homemade cold brew recipe here.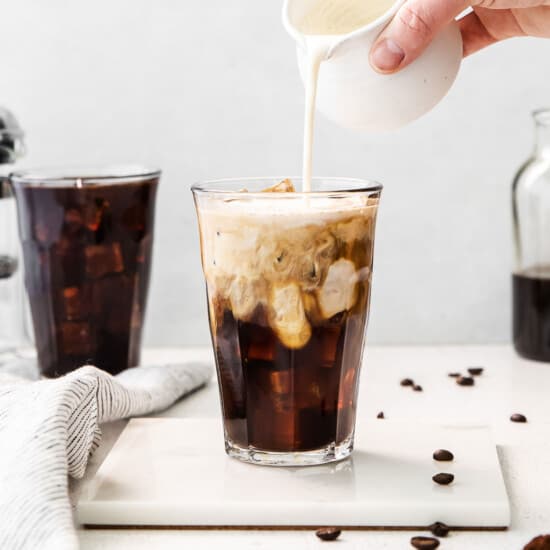 How to Make
Cold Brew Coffee
Check out this super simple tutorial on how to make your own cold brew coffee at home with just 2 ingredients!
What can I use instead of simple syrup?
If you don't want to use simple syrup, but still want to make your sweet cream sweet, here are a few ideas:
Can I use vanilla extract?
While we prefer vanilla bean past, you can use vanilla extract if that's all you have. We recommend 1/2 – 1 teaspoon.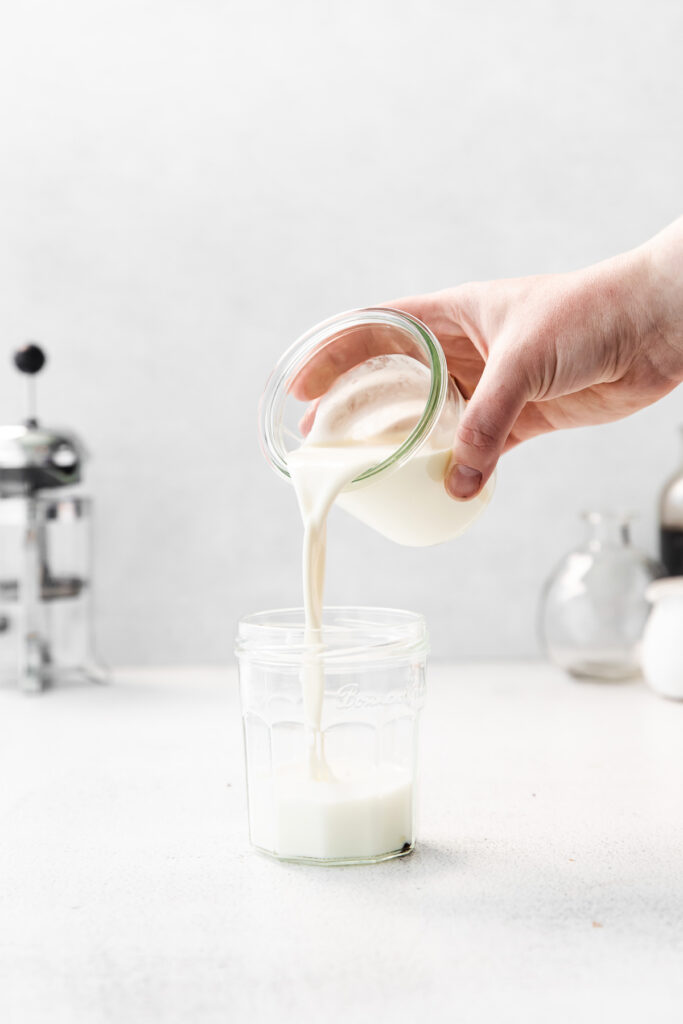 How to Make Vanilla Sweet Cream Cold Foam
Let's make Starbucks vanilla sweet cream!
Scrape vanilla bean: first, use the back of a butter knife to scrape the vanilla bean paste from the vanilla bean. Add that into a small jar.
Add ingredients to jar: Place the rest of the ingredients into the jar.
Mix: Put the cap on the jar and mix to combine everything together. Option to serve as is.
Froth: To turn the vanilla sweet cream into a foam, use a frother to froth it for 15-20 seconds.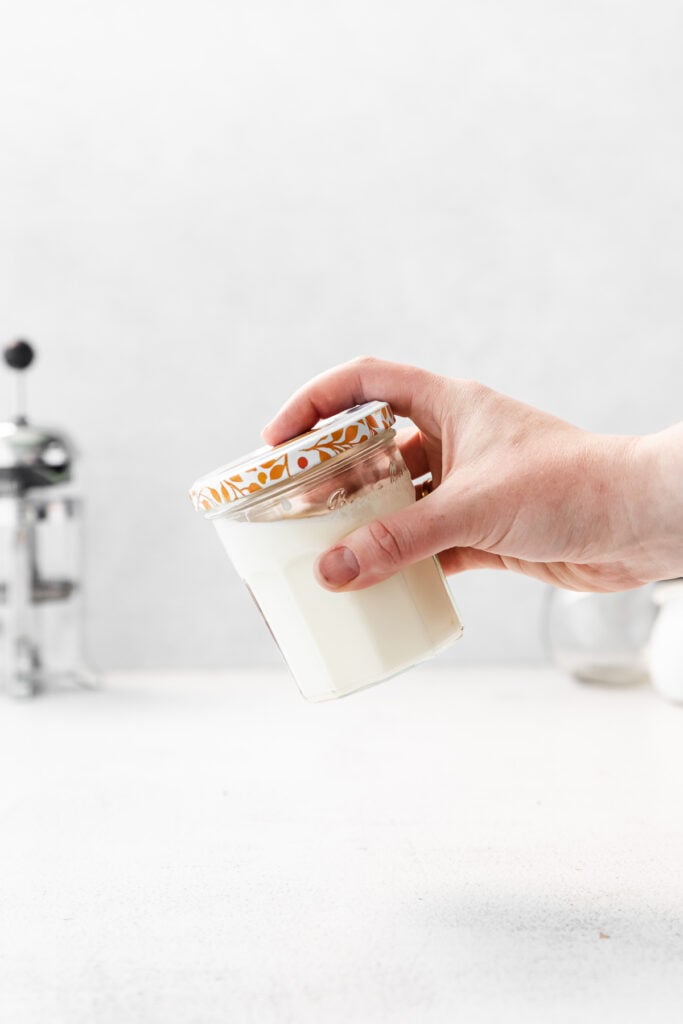 How to "Foam" Vanilla Sweet Cream
The reason why vanilla sweet cream is considered a "foam" is because it's actually frothed into a foam. There are many different ways to do so.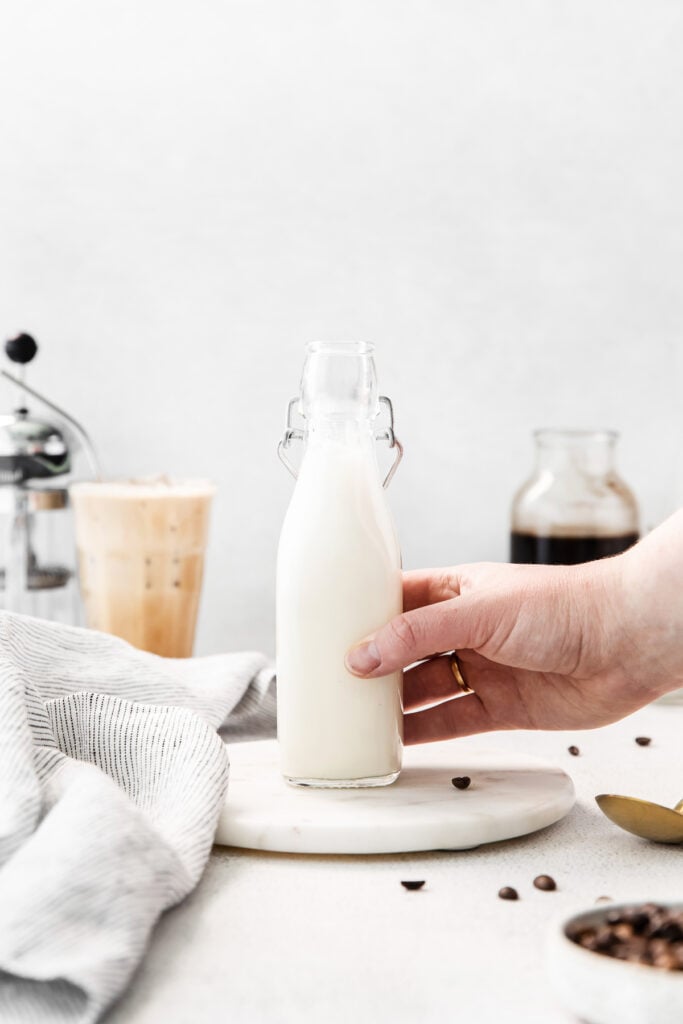 Serving Suggestions
Vanilla sweet cream foam is like an upgraded vanilla creamer. It's sweet, foamy, and seriously so perfect on any coffee drink.
Cold Brew: top your cold brew coffee with this frothy deliciousness.
French Press Coffee: you'll never want to drink your French press coffee any other way than topped with this foam.
Drip Coffee: love classic drip coffee? Us too! Ths foam makes it even better.
If you think you will have leftover vanilla sweet cream, do NOT froth it if you're going to store it.
Transfer it into an airtight container or jar, seal, and store in the fridge for up to 5 days.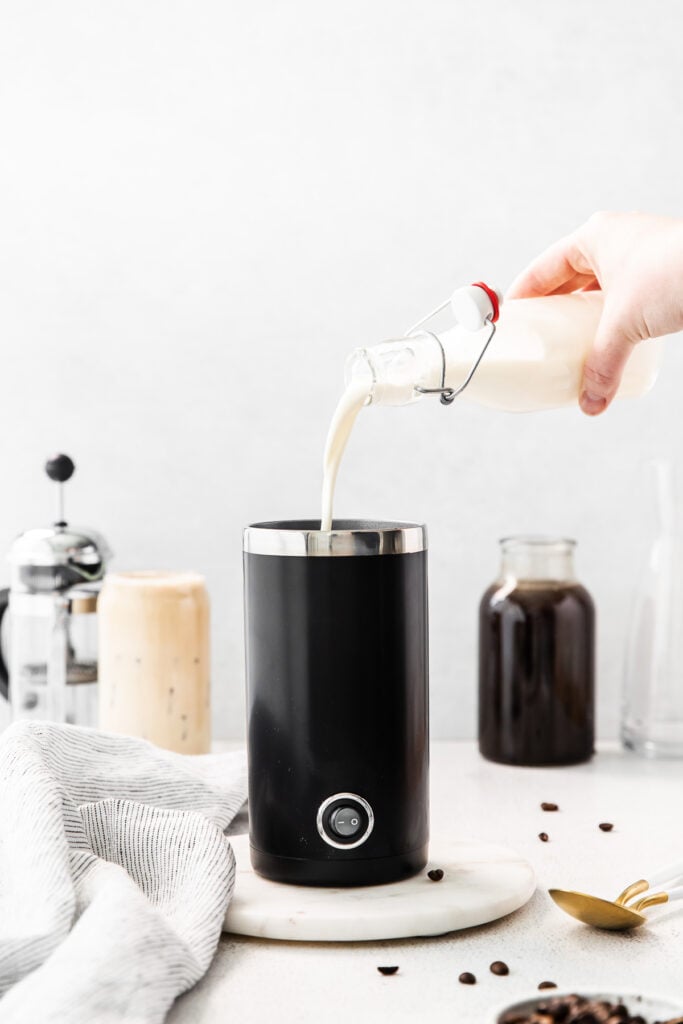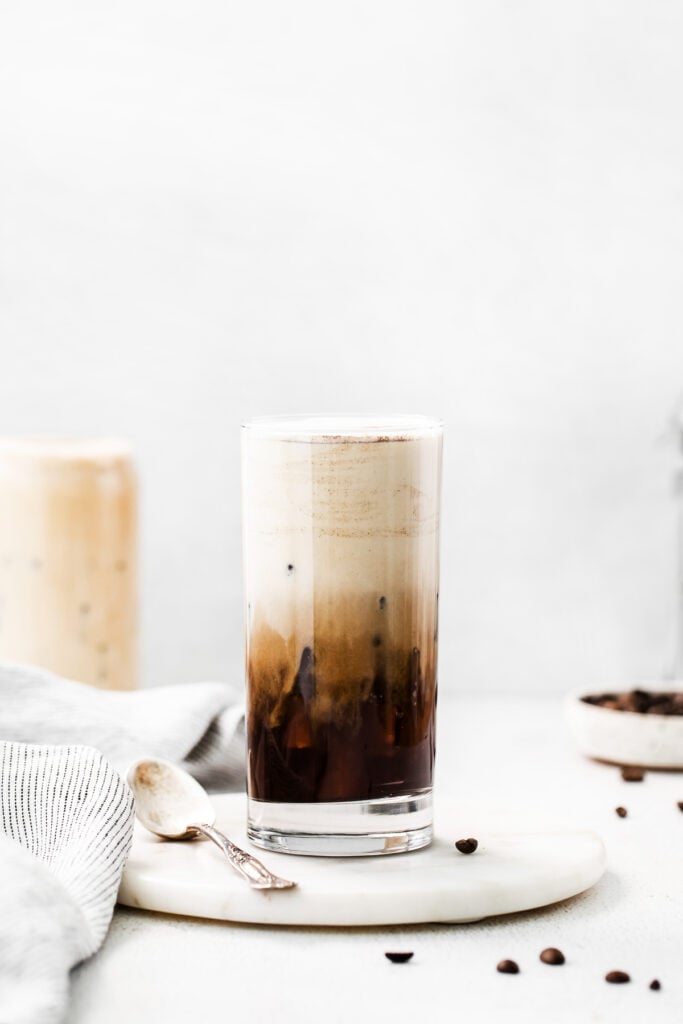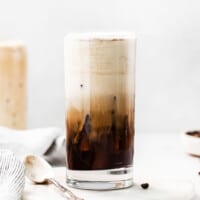 How to Make Vanilla Sweet Cream Cold Foam
Make your own Starbucks Vanilla Sweet Cream Cold Foam at home and drink your cold brew in style every morning! 
Prep: 10 minutesCook: 0 minutesTotal: 10 minutes
Fat 12
Carbs 2
Protein 1
Yield 4 1x
½ cup heavy cream 
¼ cup 2% milk
½ vanilla bean, paste scraped out 
1–3 teaspoons simple syrup (or more, to taste)
Pinch of salt
First, use a butter knife to scrape out the paste from ½ a vanilla bean. 
Then, place all of the ingredients for the vanilla sweet cream into a mason jar. 
Cover the jar and shake until all of the ingredients are combined. 
Serve as is with any hot coffee or cold brew.
To turn this vanilla sweet cream into "foam" use a hand-held frother to froth for 15-30 seconds until foamy.
If you have a Nespresso frother (we do!) make sure to froth the vanilla sweet cream on the cold setting so it doesn't heat up your sweet cream.
Storage: Store vanilla sweet cream in the fridge for up to 5 days.
Serving Size: 1/4
Calories: 114
Sugar: 2
Fat: 12
Carbohydrates: 2
Fiber: 0
Protein: 1
Author: Category: DrinksMethod: No BakeCuisine: American
Keywords: vanilla sweet cream cold foam